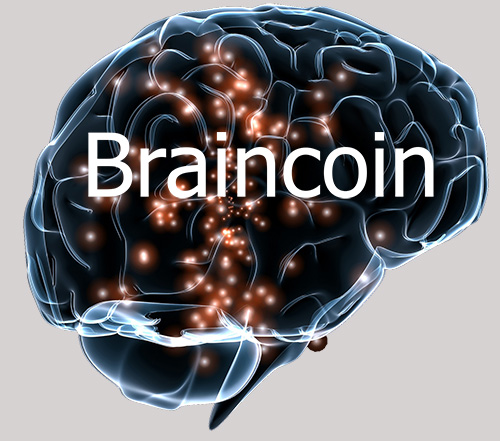 Start - 1.04.2016
Web: Braincoin - sait.
Specifications
Coin Name: Brain coin
Ticker: BRAIN
Algo: x11
POW
Mature: 5 Blocks
Max Coin Supply: 22000000
PoS: soon(in summer)
Block Time: 210 seconds
Premine: 0
Block ~50 Coins
P2Port: 6390
RPCPort: 6389
Masternode for start.
Step 1: First, open the console of your wallet and create an address for your masternode, do this by entering
"getaccountaddress MN". You can replace "MN" with whatever you would like to name your masternode.

Step 2: Send 100000Braincoin to the address you just created. It must be exactly 100000, in one transaction.

Step 3: Execute "masternode genkey" in your wallet's console.

Step 4: Open the braincoin.conf folder in the data directory for your wallet, edit it like so:

rpcuser=long random username
rpcpassword=longer random password
rpcallowip=127.0.0.1
listen=1
server=1
daemon=1
logtimestamps=1
maxconnections=256
masternode=1
masternodeprivkey=XXXXXXXXXXXXXXXXXXXXXXXXXXXXXXXXXXXXXXXX

Replace the X with the key generated when you ran "masternode genkey" in step 3.

Step 5: Save the braincoin.conf file, close, and restart your wallet.

Step 6: In the console of your wallet enter "masternode start", assuming everything went well you should see a
message letting you know your masternode has been started successfully.
Wallets
Windows 32 rar
Windows 64 rar
Linux 32
Linux 64
Mac - soon
You can download from our site.
Source

Mining Pools
P2pool: Braincoin pool
-o stratum+tcp://stratum.coin-miners.info:3533 -u WALLET_ADDRESS -p c=BRAIN


Block Explorers
Braincoin explorer

Exchanges


C-CEX.com VOTE
https://empirex.ch/Market?pair=BRAIN/BTC
https://empirex.ch/Market?pair=BRAIN/LTC
https://empirex.ch/Market?pair=BRAIN/DOGE
https://empirex.ch/Market?pair=BRAIN/STEPS
Edited by luciferdark, 27 May 2016 - 04:48 PM.